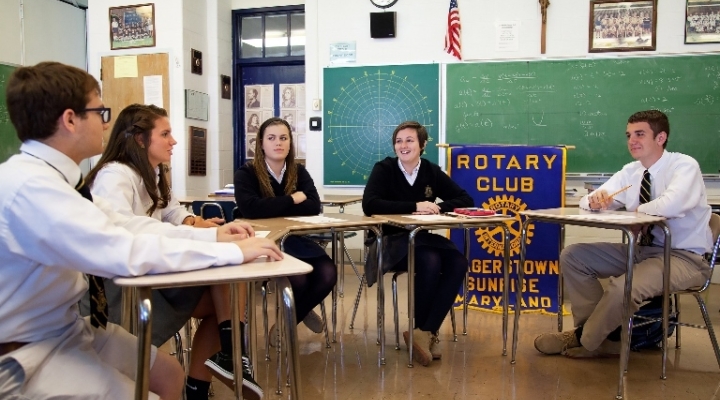 High School (9th-12th)
As an Archdiocesan High School, St. Maria Goretti offers a broad-based program of liberal arts studies. Working to educate the whole person, we offer students a core foundational sequence of courses with the opportunity to take a variety of electives. All of our courses are taught at a college-preparatory level or higher.
All students are required to earn 28 credits for graduation:
Religion/Theology – 4 credits
English – 4 credits
Mathematics – 4 credits
Social Studies – 3 credits
Science – 3 credits
Foreign Language – 3 credits
Technology – 1 credit
Fine Arts – 1 credit
Physical Education – 1 credit
Electives – 4 credits
---
In addition to the regular college preparatory curriculum, courses are also offered at the Honors, Advanced Placement, and Early-to-College levels. Students are placed in courses according to their ability, level of achievement and interest.

In addition to the academic requirements for graduation, all students are required to complete 100 hours (25 hours per year) in the Community Service Program.
Advanced Placement Classes (AP): Designed for students who demonstrate the ability to master a college level course.
Depending on student interest in a given year, St. Maria Goretti High School offers AP-level courses in:
English Literature & Composition
U.S. History
U.S. Government & Politics
Calculus BC
Biology
Chemistry
Spanish
It is work nothing that many students enrolled in Honors-level courses have earned passing scores on AP Exams in Statistics, Psychology, and English Language and Composition.
Honors Level Courses (H): Designed for students with above-average ability who are able to accept challenging studies.
College Prep Courses (CP): Designed for students of college-prep ability.
Early-to-College Classes (ETC): Designed for qualified juniors and seniors who wish to earn college credit concurrently with high school credit. Our ETC classes include offerings from Mount St. Mary's University and Hagerstown Community College.