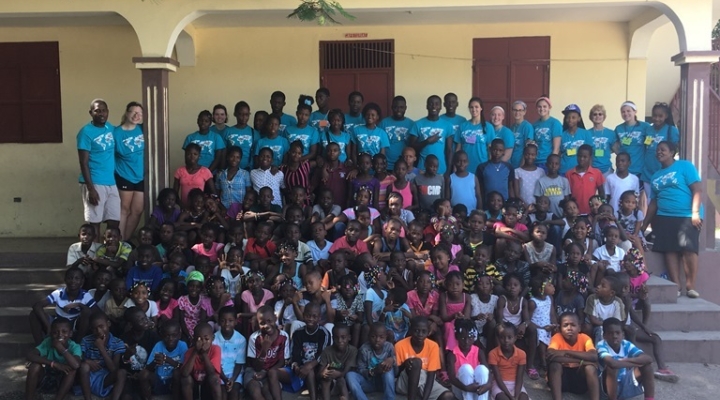 Youth Ministry
Missions Trips
The mission trip was an extremely fulfilling experience that allowed me to serve others while also creating unbreakable bonds with those around me. I could see how my work was actually changing peoples' lives, which was an incredibly rewarding feeling. -Fizah Yousuf, Class of 2019
Catholic Heart Work Camp
Catholic HEART Workcamp works throughout the country in 50 cities with over 13,000 members or parish youth groups and schools joining "to share the love of Christ as we serve the neglected, brokenhearted, and the marginalized in any way needed." CHWC is a youth-friendly, Christ-centered ministry which faithfully and enthusiastically honors the Roman Catholic Church and its teachings. It is a powerful opportunity "to love the least of these".

Each summer, St. Maria Goretti High School and the youth groups of St. Mary and St. Ann Catholic Churches attend mission trips with Catholic Heart Work Camp. Service work performed includes cleaning the apartments of elderly residents, trimming yards, rebuilding the interior of homes, and cleaning buildings of non-profits. The evenings are filled with fun worship and praise activities. Our youth continue to have an amazing experience and look forward to next year's Mission Trip!

Summer 2018: Virginia Beach, VA. More information is available through the CHWC website.
It was an enriching experience in which I was able to grow spiritually through working alongside some of my best friends. -Aroub Yousuf, Class of 2018

CHWC was an amazing and eye-opening experience. Being able to help other people while creating a bond was incredible, and I am so lucky to have been given the opportunity to do so. -Emily Abe, Class of 2019

I had an incredibly memorable experience where I was able to experience God through the helping of others. I learned the true meaning of service: To help others because of my love for God. -John Anderson, Class of 2019
Haiti
Each summer a group of youth and adults from St. Ann Catholic Church travel to Dessalines, Haiti, to conduct a one-week camp for a select group of students from St. Claire Parish. The honor of being selected to attend the camp is motivation during the school year for the students of the St. Claire Parish schools. In total, 100 children attend the camp each summer.
The group spends the week with the children of St. Claire playing sports, doing crafts, and helping with math, science and Bible lessons. Engaging with the children and people of St. Claire Parish is a transformative experience for them, as they get to know the children in a close and personal way. Youth who participate in this trip have described it as "life- changing" and each hopes to travel back to Haiti in the future to continue to help those who they met on the trip.

Summer 2017 Student Experience
Kathy Roth, Class of 2019:
"My first glimpse of Haiti was from an airplane. The rivers had dried up so badly that they looked like old dusty roads filled with dirt. There was no green grass, and the trees were so few the land looked like one big dust bowl. On the ground, the buildings looked like bombs had gone off with chunks missing everywhere. Barbed wire surrounded the city on top of immense walls that had had pieces of glass cemented in for security. I stood there thinking to myself, "How can people live here?" But then, I saw the children running towards me and the other missionaries as we walked through the gates of the school. They all had smiles plastered across their faces from as they were playing basketball, soccer, and having intense tic-tac-toe matches with sidewalk chalk eagerly inviting us to join in. In the duration of days I was there, seeing the Haitian people make so much out of so little was amazing. In America, we have access to internet, TV, the latest iPhones, and our favorite fast food places, but in Haiti most of the people don't even have electricity, and some don't even know when they are going to eat again...I think my favorite moment was sitting on the sidewalk with the kids, making bracelets out of tiny beads, or seeing who could blow the biggest bubble, and just being a witness in seeing them grow and be happy really brought tears to my eyes. I see Haiti as a second home now because the people there weren't concerned with the societal standards we hold as the most important today. They accepted you as you were and welcomed you to their family. I am thankful for my experience in Haiti and I encourage anyone who is wondering about going to Haiti or anywhere else overseas to go and to share in the experience of other cultures. It is an amazing thing and it will change your life forever."
Visit St. Ann Catholic Church for more information.
Haiti Lenten Appeal
In the spirit of Lent, each year the week before Easter Goretti raises funds that go directly toward a specific project at our sister school in Haiti.
---
Fellowship
Opportunities for fellowship are available both before and after school. The Fellowship of Christian Athletes meets before school and holds fellowship gatherings after school.