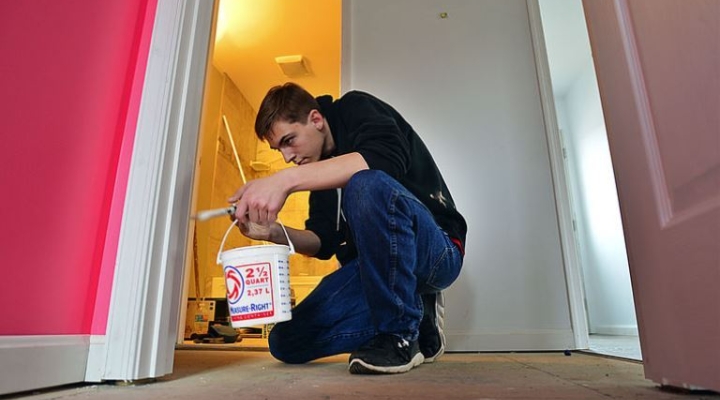 Service Outreach
St. Maria Goretti takes seriously our commitment to educate students to be responsible citizens and active participants in the faith. To this end, each student is required to perform 25 hours of community service for each year he/she attends the school, for a total graduation requirement of 100 hours. Many service opportunities are available throughout the school, including a week-long Mission Trip.
It is incumbent on those who exercise authority to strengthen the values that inspire the confidence of members of the group and encourage them to put themselves at the service of others. -Catechism of the Catholic Church
As part of their Freshmen Orientation, our ninth grade class is required to attend Freshmen Service Day. Students are sent into the community to local organizations and perform various service projects.
---
Two Hundred Service Award
St. Maria Goretti High School has a special award to acknowledge the seniors who go above and beyond the "call of duty." The Two Hundred Service Award is given to seniors who attain more than 200 approved and documented service hours. This award recognizes their outstanding service to the St. Maria Goretti High School community and the community at large. As part of this honor, students who receive this award are acknowledged during their senior year at student assemblies and receive a service honor cord to wear at commencement ceremonies.
These are the current members of the "200 Club":

| | | |
| --- | --- | --- |
| 12th Grade | 11th Grade | |
| Jane Bramson | John Anderson | |
| Kiersten Erickson | Trey Boothe | |
| Georgia Giannaris | Matthew Collins | |
| Marina Hamilla | Adrianna Dunbar | |
| Maura Hevey | Elizabeth Patterson | |
| Arielle Jean-Jacques | Fizah Yousuf | |
| Hanna Manning | Ian Zinaich | |
| Reed Martz | | |
| Kaitlyn Miller | | |
| Dahlia Nogales | | |
| Tara Reinhardt | | |
| Jared Semler | | |
| Samantha Sutterman | | |
| Julianna Swarner | | |
| Abigail Theis | | |
| Danielle Wells | | |
| Aroub Yousuf | | |