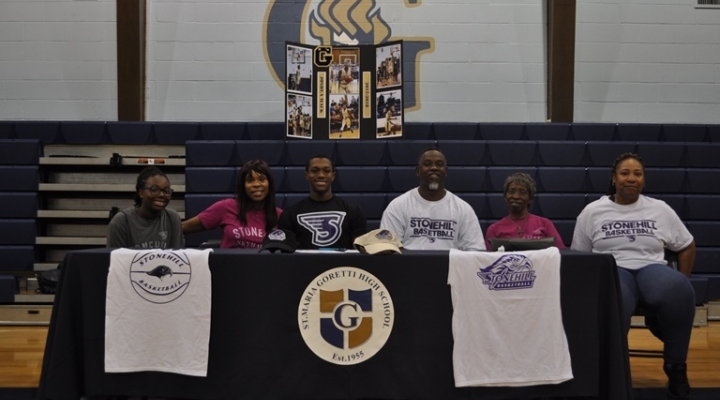 Joshua Mack Signs NLI for Stonehill Basketball
Friday, May 4, 2018

HAGERSTOWN, Md.— Senior Joshua Mack signed his National Letter of Intent to play basketball at Division II Stonehill College in North Easton, MA. Mack received honors for the Fall 2017 semester and earned a full-ride, consisting of athletic and academic scholarships.
Stonehill College is a Roman Catholic, liberal arts college, and its mission is "to provide an education of the highest caliber that fosters critical thinking, free inquiry and the interchange of ideas and educate the whole person so that each Stonehill graduate thinks, acts, and leads with courage toward the creation of a more just and compassionate world."

Stonehill's sister school is the University of Notre Dame, where Stonehill's engineering majors spend their last four semesters of undergraduate education.
The Princeton Review ranked Stonehill College:[6]
Best 373 Colleges
Best Northeastern Colleges
Happiest Students #7
Everyone plays Intramural Sports #9
Most Accessible Professors #10
Town-Gown Relations Are Great #10
Most Popular Study Abroad Programs #13
Best Career Services #19
Most Beautiful Campus #14
The Skyhawks Basketball team went 17-12 this season, losing to Le Moyne in the Northeast-10 Tournament Quarterfinals. They held a 12-9 mark in the NE10.
Sources: Stonehill College Wikipedia and the Stonehill College website.